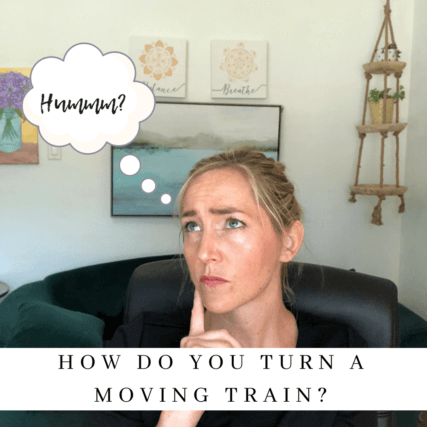 I have a riddle for you…How do you turn a moving train?
Well, you will have to wait a bit for the answer, as I tell you where I have been for the last few months…
You may have wondered or maybe you haven't…where I have been for the last 6 months or so. Well, I have been on a break. A break from social media, blog writing, video making, posting…a break from all of it, the truth is  I just couldn't do it anymore.
Nothing specific happened, there was no real terrible story to tell…other than the terrible story of a slow creeping discontent and loss of joy, coupled with ego-created frustration, with hours-long jags of bone-deep sadness.  I have shared before that negative go-to emotion of choice has always been anxiety and worry, never really sadness this was something new, really hard and unnerving.
This new melancholy and discontent the started creeping up on me in spring of 2017 and it had fully infiltrated of my mental dialogue and emotional body by the fall.   It was hard and I felt all out of sorts. We all have our own ways of dealing with these negative feelings, doing, eating, booze, shopping…well my coping mechanism tends to be doing, working harder and eating.  I tend to work, push down and push through. I think that if I just keep my nose down and push through, do the work, then things will right themselves and get back to normal. But that didn't work this time, honestly it never really works, but it really didn't work this time, the cloud wasn't passing.  I couldn't get back into the flow, it was only getting hard and harder.
And to make it especially hard was that most of these negative feelings were centered around my work and my business.
I started my business over 5 years ago, and for most of the time it was successful, rewarding and even "easy".  I hit the "work jackpot"  I worked for myself doing all the things I love, working with people, personal development, coaching, writing, health, wellbeing, being creative and my Vibrant Warrior community. I loved everything about it and I woke up every morning excited to get started.
Until one day I woke up and realized that I wasn't excited to get started anymore.   In fact, not only wasn't I excited, I noticed that I felt heavy and disenchanted with a bit underlying subtle irritation and overwhelm most of the time.
It was hard to decipher these feelings; because this is what I "wanted",  this was what I had worked so hard for.  And I wanted these negative feelings to go away, I wanted my unbridled enthusiasm back, I didn't know what was wrong. But I did know enough to know (thanks to the bookshelf full of self-help books),  there was a reason for these feelings, that they were an indication that something needed to change. I knew I needed to pivot this train I was on and redirect the tracks I had built for myself.
I knew I needed answers and some clarity, so I went to the greatest guide I know, myself and soul. I spent a lot of time in meditation and journaling.
But nothing.
No 5 part plan, no road map, no clear direction. I was waiting for a downloadable plan to materialize to provide clear direction about my next right steps, but that didn't come just a lot of (unhelpful) messages like be patient and (most upsetting of all)  maybe it's time for a change. And another truth became clear to me, the truth is that maybe my personal value was too wrapped up in the success and growth of my business.
Now, I think how we see and value ourselves is always influenced by the things that make up our life, which is mostly fine and even healthy. But it becomes unhealthy when our worth and worthiness hinges on the(perceived) success or failure of one area of our life. Meaning, when things are going right (aka according to your plan), it's easy to feel worthy, valuable and be in love with the world. But it gets distinctly harder to feel these warm fuzzies when things go sideways (aka not according to your plan), because this exposes all your insecurities. And the world of an entrepreneur is a world of ups, downs and sideways, so I was always feeling up down and sideways.
And I began to notice that even when my business was in easy mode, I wasn't enjoying it like I did before, which made it harder and harder to hustle and create my art.
I soon began to realize, I was falling out of love with my business and it stopped being a labor of love and just became a labor. And this was a hard realization because I had poured so much into it, and it felt like I was giving up or failing, or maybe a combination of the two. And as any of you entrepreneurs know, it's hard to be hustle and grow your business when the passion is gone. This was a hard and scary place to be, because not only did I feel like a huge piece of my life (and my worth) was dissolving but it was financially scary too, because the money I brought in with my business was needed to help support my family.
I wasn't sure what to do, but I knew I needed to pivot.  So I decided to invest in my education and enrolled in an Integrative Medicine program, this is something I have been interested in and thinking about for years, so I figured now is the best time.
So I began the Integrative Health and Lifestyles Practioner course at the University of Arizona in January of 2018 and it was wonderful and really exceded my expectations.  I learned so much and it satisfied my need for knowledge and a deeper dive into holistic health and healing. But it also quickly become clear that this was not the panacea for my dis-ease. That adding and upgrading my knowledge was not what I needed to pivot business. My business was like a train; big, heavy, on tracks, which makes it "pivoting " or "turning" impossible
Ok, now for the answer to that riddle…How do you turn a moving train? Answer: You don't. (Sorry, trick question.) You can't, because trains move on carefully laid tracks and trying to turn a train off it's track is normally what they call a train-wreck.
So instead of train-wrecking, I decided to simply stop the train and get off for a while.
So I began slowing down and stopping the train, right where it was and stepped off.
And that is what I did about 6 months ago, I stepped off the train and starting a new journey in a slightly different direction.
And that is actually where I still am now, but just maybe a further steps further into my new journey. I am not sure where exactly I am going, but what I know for sure, is that I want to be at ease and confident and in love with my art again. I want wellness, healing and serving people to be feel good, pure and artful again. And I don't want my livelihood to be attached to it anymore. Even writing that last sentence feels wimpy, weak and not good enough, but it's the truth and it's a truth I had to come to after a lot of heart ache. Maybe that will change in the future, but it's true for me right now.
So to find more ease and comfort, I had to solve the problem of finaces and that problem actually had a fairly easy answer,  I decided to get a joby job. It was a simple answer, but hard decision, because it felt like failing, but I had to realize that it wasn't a failing, it was a choice. I could choose to continue to push through on my own, after all it was successful enough, but it felt so hard, or I could choose something else to see if that created more ease and comfort in my life. So I decided to choose something else, I chose to be open to new options and possibilities.
I surrendered. Which happened in layers, but once I fully surrendered, new interesting possibilities materialized.
And I recently accepted a position on the sales and business development team for a local hospital. It's a great opportunity and I am really excited because it will allow me to integrate a lot of what I have learned over the last 5 years owning my own business, work with a team of people, continue to grow my business knowledge aaaaand get a steady pay check. And as my friend so eloquently put it, "getting a steady pay check is really fun, I am a big fan!" Ha! I am sure, I will be too,!
And, I can continue my health and wellness business on the side, it has become my side-hustle, which will allow it to be artful and untethered again. I am truly excited about having the freedom to write and post what I want without having to be strategic or worrying if it's off brand. I will be creating purely for the love.
So that is where I have been for the last 6 months. I have been packing and unpacking my bags to ready myself for this new journey I am embarking on.
I am excited about the possibilities.
And I hope to see you along the way, as we both move through our own experiences together.
With Love,
Sally
P.S. This was a vulnerable article to publish because I was anxious about all the ways my words would be read and perceived.  But this morning during an accidental yoga, during the gentle intentional movements my soul Whispered freedom. Sharing my truth brings freedom. Freedom of movement, freedom of feeling and peace. I sequestered myself to gain clarity, but it started to feel like hiding and hiding is the opposite of freedom. So I send these words out with respect and love, and I hope something in my sharings brings you freedom and a bit of peace too. ❤
P.P.S. Accidental yoga = I miss read the workout schedule and accidentally ended up in a yoga instead in an athletic training class…which is exactly what Spirit intended. So grateful.